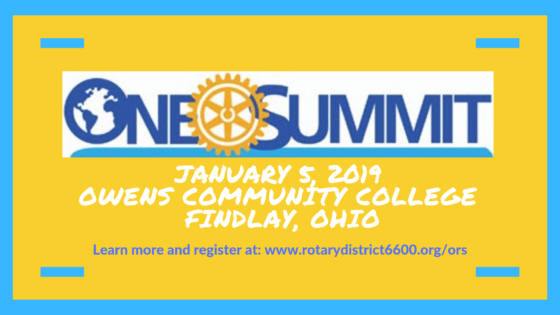 Join us for One Rotary Summit on Saturday, January 5, 2019. This annual event is a way for District 6600 Rotarians to network with other Rotarians and discuss the relationship between Membership, Public Image and Humanitarian Service.
This year's One Rotary Summit content features Rotarians Jennifer Jones and Michael Angelo Caruso, as well as well-known writer and speaker, Simon Sinek. Whether you have attended previous One Rotary Summits or this is your first time attending, prepare to be energized and inspired.
One Rotary Summit is for ALL Rotarians- there is no title or rank necessary to be a part of this day. Gather a group from your club and join us for an awesome event!
Registration is at 8:30 AM and Summit runs from 9:00 AM to 1:00 PM and includes breakfast and lunch. The event will be held at Owens Community College in Findlay, Ohio in the Educational Center, Room 111. This is a free event sponsored by District 6600.
Immediately following One Rotary Summit we will offer two additional opportunities from 1:30-3 PM.
Graphics- Learn how to make graphics for your club using three free and easy tools. Join Alison Frye for a practical and hands on session.
Presidents Elect- Did you miss a fall PE gathering or have additional questions about becoming your club's president? Join DGE Carolyn Huston to learn all about your path to club president.
REGISTER NOW:
Use this link register via DacDB login
Use this link if you do not know your DacDB login
For questions about this event email Deb Cheney (debcheneyrotary6600@gmail.com) or Alison Frye (alison.frye@rotarydistrict6600.org).