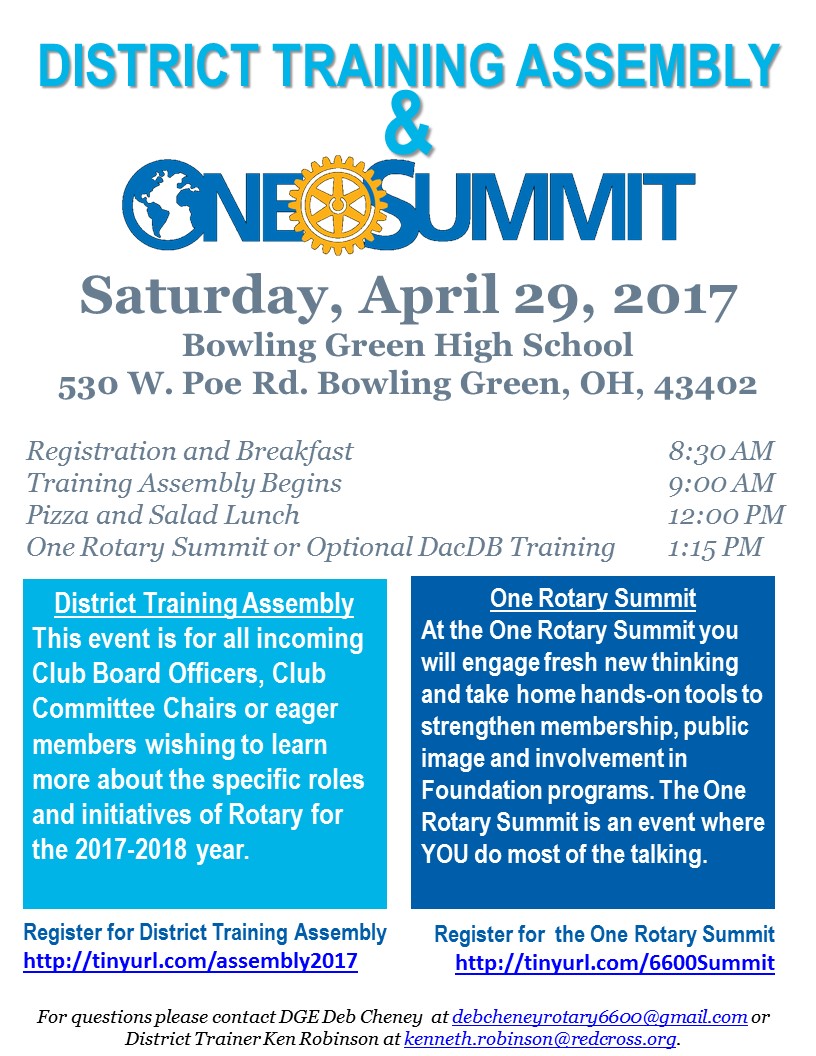 Springtime means District Training Assembly and our One Rotary Summit! Plan to visit us at Bowling Green High School on Saturday, April 29! Click HERE for a downloadable flyer to share with your fellow Rotarians.
The District Training Assembly is for all incoming Club Board Officers, Club Committee Chairs or eager members wishing to learn more about the specific roles and initiatives of Rotary for the 2017-2018 year. Presidents-Elect must attend their specific session with DGE Deb to vote on the District Budget. Sessions are also provided for Assistant Governors, Secretaries/Treasurers, and a special gathering for other board members or interested Rotarians not in one of these roles that will touch on Membership, Rotary Foundation, a Rotary 101 presentation that debuted at All Ohio Presidents Training, and best practices for Rotary Board membership and governance. To register for the Assembly, please click HERE.
Following the Assembly and Lunch at Bowling Green High School, everyone is invited to attend our One Rotary Summit with DG Do. At the Summit, you will engage fresh new thinking and take home hands-on tools to strengthen membership, public image and involvement in Foundation programs. The One Rotary Summit is an event where YOU do most of the talking and EVERY ROTARIAN IS WELCOME! Click HERE to register for the One Rotary Summit.
Please note, if you plan to attend both events, please complete both registrations! Get your carpooling figured out and come spend the day with DG Do, DGE Deb and your District Team as we work to make Rotary stronger, more vibrant and more fun!
For questions, please contact District Trainer Ken Robinson.