District 6600 Newsletters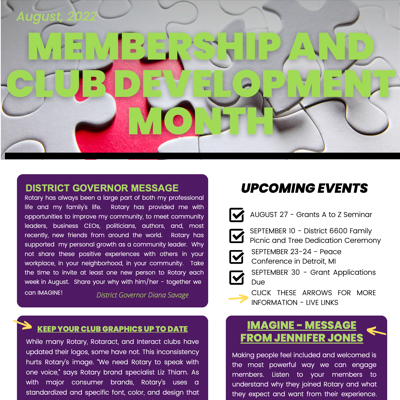 Rotary District 6600 Training
Rotary District 6600's training committee is responsible for preparing its leaders, and its clubs' leaders, for their roles. The District Trainer and his or her committee also supports the governor‑elect in training incoming club and district leaders and the governor in providing ongoing training to Rotarians. The governor‑elect convenes the presidents‑elect training seminars (PETS), district training assembly, grant management seminar, and other district training events.
Resources for Club Presidents Elect
Future Dates for Reference and Planning:
Multi-District PETS (President-Elect Training Session)
TBD
In-Person District PETS (REQUIRED)
Friday, March 10, 2023 – Location TBD 
All Ohio PETS – Columbus Ohio (REQUIRED)
All Ohio Presidents-Elect Training Seminar – A multi-district PETS training sessions of the five Rotary Districts in Ohio. It serves more than 250 clubs Rotary Clubs in Ohio. During the weekend you and your spouse/partner will meet fellow Presidents-Elect to create new and lasting friendships, and of course add to your knowledge of running a successful Rotary Club.
Friday & Saturday, March 11-12, 2023
Neighboring Rotary Districts