District 6600 Newsletters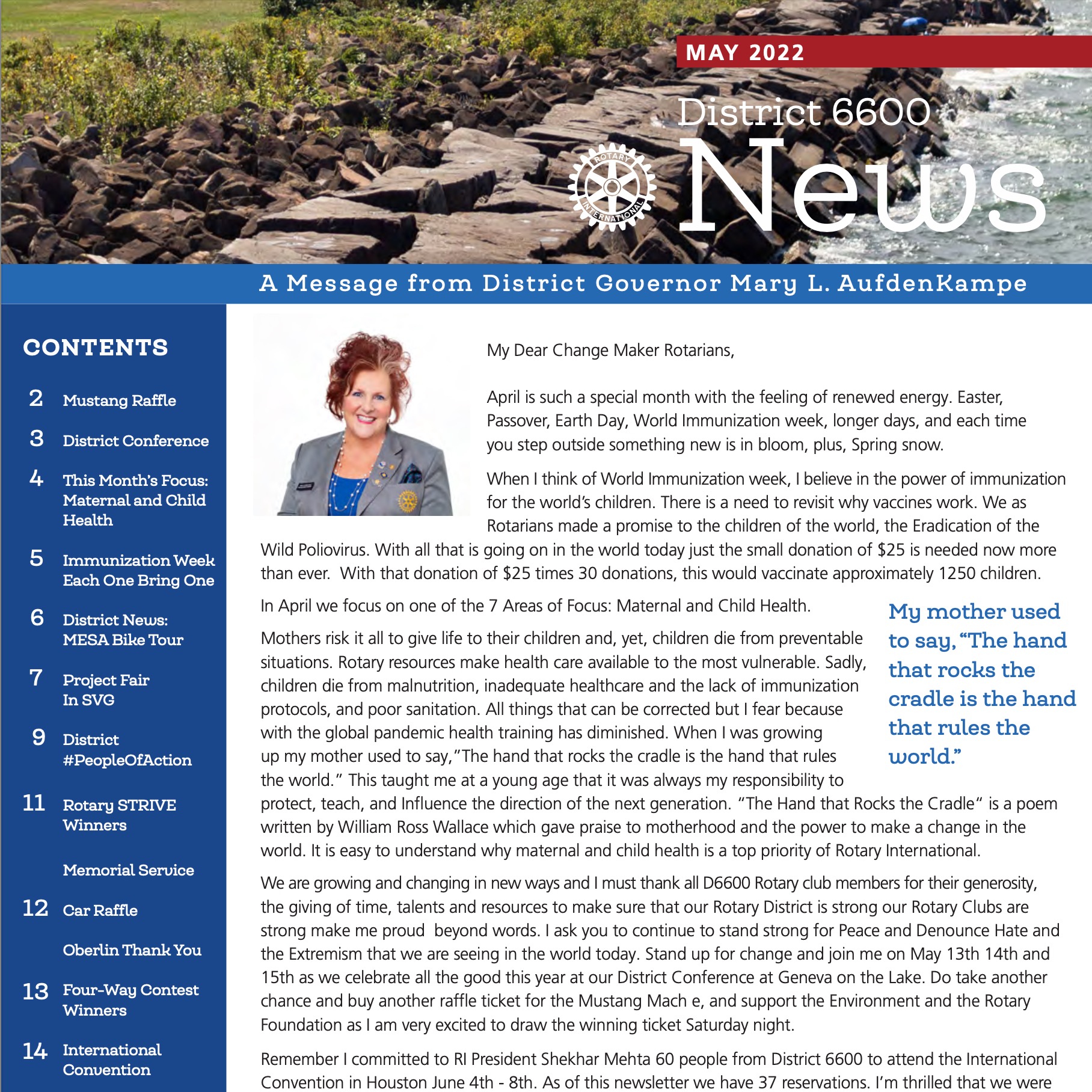 Rotary District 6600 Training
Rotary District 6600's training committee is responsible for preparing its leaders, and its clubs' leaders, for their roles. The District Trainer and his or her committee also supports the governor‑elect in training incoming club and district leaders and the governor in providing ongoing training to Rotarians. The governor‑elect convenes the presidents‑elect training seminars (PETS), district training assembly, grant management seminar, and other district training events.
Resources for Club Presidents Elect
Future Dates for Reference and Planning:
Multi-District PETS (President-Elect Training Session)
There will be three (3) virtual events and will include all PEs in the state of Ohio. You will need to register for each event. We will send out a Save the Date email that will contain a registration link. The Link will also be available on the District Website. The dates will and times are as follows.
All-Ohio PETS – My Very Own Blanket Competition!
For this year's All-Ohio PETS, the five District Governors-Elect in Ohio have challenged each other to a fun and impactful service project competition! Partnering with My Very Own Blanket, our goal is to donate 16,000 blankets to children in Ohio's foster care system. Details are included here.
In-Person District PETS (REQUIRED)
DGE Diana Savage will have just completed her Governor training at International Assembly and will introduce the 2022-2023 Rotary International Theme, the Goals of 2022-2023 RI President Jennifer Jones and DGE Diana's goals for Rotary District 6600 during the Meeting.
Friday, March 11 – Location TBD – 9:00 am – 1:00 pm
All Ohio PETS – Columbus Ohio (REQUIRED)
All Ohio Presidents-Elect Training Seminar – A multi-district PETS training sessions of the five Rotary Districts in Ohio. It serves more than 250 clubs Rotary Clubs in Ohio. During the weekend you and your spouse/partner will meet fellow Presidents-Elect to create new and lasting friendships, and of course add to your knowledge of running a successful Rotary Club.
Friday & Saturday, March 11-12, 2022
Registration for All-Ohio PETS
All Ohio PETS registration is open, register here.
Neighboring Rotary Districts