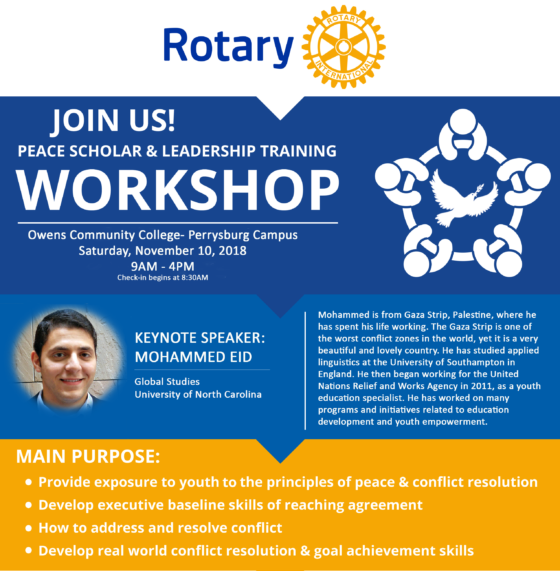 Join us for a conference to explore the idea of peace and how we can make a difference right where we are. This event features Mohammed Eid, a Rotary Peace Scholar at the University of North Carolina, Chapel Hill. Mohammed is from the Gaza Strip, Palestine one of the most beautiful places in the world, yet also the site of some of the word conflict in the world. Mohammed will share his unique perspective related to his work and home country.
The main purpose of this event is to:
Provide exposure to youth to the principles of peace & conflict resolution
Develop baseline skills of reaching agreement and finding common ground
How to address and resolve conflict
How to set goals and effectively build a team
This FREE event is being held at Owens Community College (Heritage Hall) in Perrysburg from 9 AM – 4 PM. Registration is open at 8:30 AM.
Fostering Peace in our communities and across the globe is central to the work of Rotary. And while this is important for all Rotarians, encouraging our next generation of leaders to make Peace a priority is a special charge all of us share. This event is targeted towards members of our Interact and Rotaract Clubs and young professionals but all are welcome.
Interact and Rotaract Members, Non-Rotarians – please register HERE.
Rotary Club members, please register HERE.
Rotary District 6600 and the Rotary World Peace Scholar Program is proud to sponsor this event. Please EMAIL Allison Glover for more information.