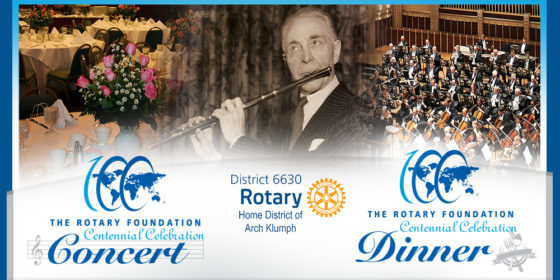 On October 23, you are invited to celebrate the 100th Anniversary of The Rotary Foundation in a very special way in Cleveland, the hometown of Arch Klumpf, founder of The Rotary Foundation.
This once-in-a-lifetime day marries Arch's love of music and passion for "Doing Good in the World" with a special Centennial Concert featuring the world-renowned Cleveland Orchestra. The concert performance will be accompanied by a special video history of Arch and The Rotary Foundation.
After the concert, the dinner will highlight the many donations to The Rotary Foundation during this past year and the presentation of new inductees into the Arch C. Klumph Society. Many Rotary leaders from around the world, including Rotary International President John Germ and The Rotary Foundation Chair Kalyan Banerjee, will be in Cleveland to help celebrate The Rotary Foundation's growth in service to humanity.  Please note, a separate ticket is required for both the concert and the dinner. Tickets for these events are on sale now at www.trf100.org.
Finally, District 6600 along with Districts 6630 and 6650 are continuing to raise money toward their goal of $2.65 million raised. For information on how you can make a special Centennial donation or pledge contact District Rotary Foundation Chair Joe Ludwig today.
---
Just the facts:
Centennial Celebration Dinner and Concert are Sunday, 10.23.16 in Cleveland, Ohio.
Purchase tickets for both events and learn more at trf100.org.
Consider a donation or pledge to The Rotary Foundation by contacting Joe Ludwig.