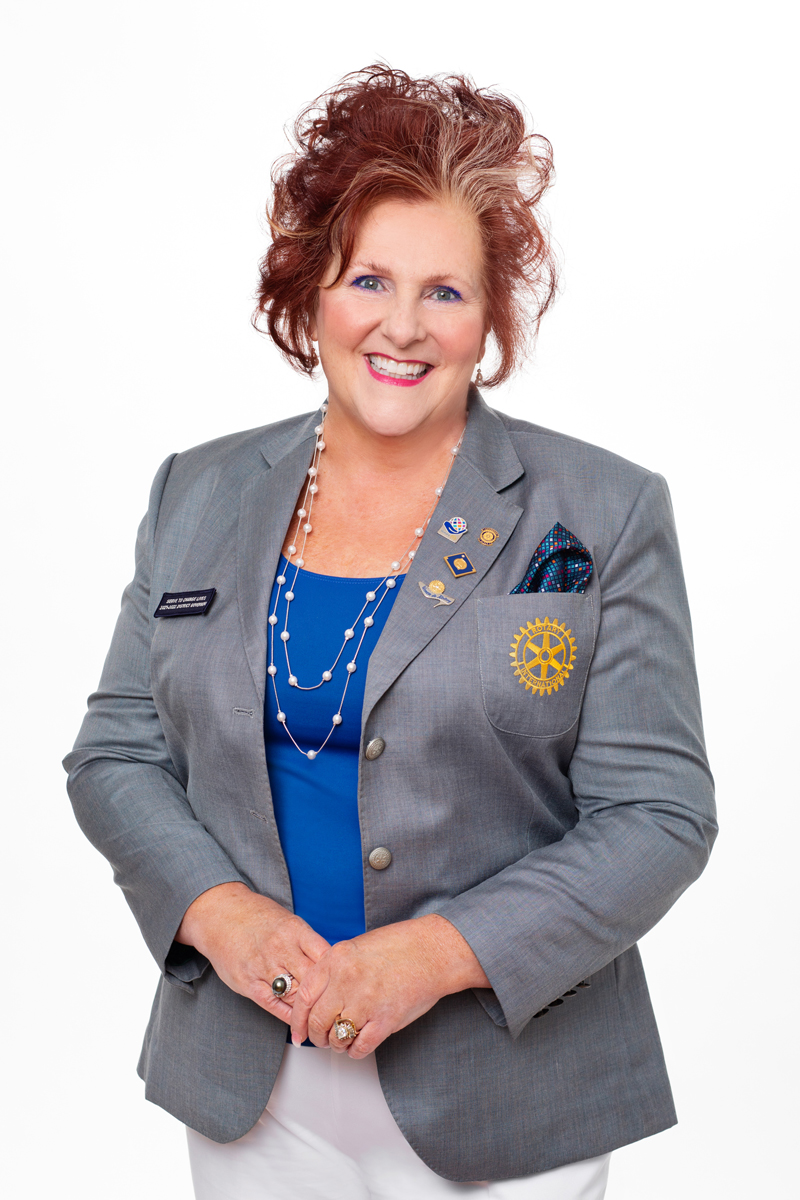 2021-2022 District Governor Mary Aufdenkampe
Home Club: Rotary Club of Oberlin
Immediate Past District Governor, Mary
Mary was invited to join the Rotary Club of Avon Lake, Ohio in October of 1988 and is proud to have been among the first women inducted into Rotary in the United States. She was one of only four women serving as President in District 6600 in 1992-93. Since 1998, Mary has been a proud member of the Rotary Club of Oberlin and served as President in 2014-15. She has many years of perfect attendance both in Avon Lake (now known as the North Coast) and in Oberlin.
Mary has served in several roles at the District level including: District Vocational Service Chair, District Governor Nominee Committee Member, District Club Service Chair, Assistant Governor, District Group Study Exchange Chair, District Student Counselor for Youth Exchange, and District Alumni Chair.
Mary also supports M.E.S.A. (Medical Equipment Supplies Abroad) and enjoys working with others on International Service Projects. Mary was instrumental in grant writing and coordinating projects with other Rotary Districts to fund a Borehole Well in Zimbabwe, Africa in 2014-15 and a Milk Parlour Project in 2017-18.
In addition, Mary has supported Trees that Feed and Little Dresses for Africa made by Interact Club Students, United Methodist Women Groups, fellow Rotarians and Senior Citizens supporting Rotary without Borders.
Mary is passionate about youth programs and has served for over a decade as the Youth Exchange Officer of her Home Club coordinating both short- and long-term exchanges and S.T.R.I.V.E (Students Taking Renewed Interest in the Value of Education) as Co-Chair in the Firelands School District.
Mary has completed the Rotary Leadership Institute Modules One and Two, attended numerous District Assemblies and District Conferences where she has served as a Facilitator and Presenter over the years. She has attended multiple Rotary International Conventions and is a proud Paul Harris Fellow, Major Donor.
Outside of Rotary, Mary supports numerous community associations including Oberlin Community Services, Oberlin Business Partnership, and the Oberlin Heritage Center. She is active at the First United Methodist Church of Oberlin having served as Council at Large, Lay Member to Charge Conference, Administrative Council, Finance Committee Chair, Staff Parish Relation Committee and Membership Committee. Mary is a strong voice for women, equality and inclusiveness being recognized by the YWCA Elyria as a Woman of Achievement in 2016.
Mary has a diverse professional background beginning in the banking industry from which she is retired after having been associated with two banks in the Pittsburgh market and Lorain County Bank. She also worked in the fashion industry and as a substitute teacher, a licensure she continues to hold in Ohio.
Mary holds an Associate Degree in Fashion from the Wheeler School, a Bachelor of Arts in Management from Seton Hill University, and a Master's in Business Administration from Tiffin University.
She and her husband Gary, a Charter Member of District 6600 Ohio Pathways E-Club, enjoy spending time traveling abroad and dining out. They also enjoy spending time with their three adult children and three grandsons, often sharing Rotary experiences with them.