We are neighbors, community leaders, and global citizens uniting for the common good. With you, we can accomplish even more.
Ohio Pathways Rotary E-Club
Rotary e-clubs are a lot like other Rotary clubs: they meet weekly, carry out service projects, support The Rotary Foundation, and socialize with each other. So what's different about e-clubs? You join your meeting online when it's convenient for you, day or night, any day of the week.
District Contact
Four Way Test Essay Contest
The Four Way Test Essay is a project for students in grades 7-8 to bring the Rotary Four Way Test to life in a 1,500 word essay. The winner of your local essay contest moves on to represent your club at a District wide competition. Winners receive cash prizes.
District Contact
Esther Baldridge esther.baldridge@gmail.com
Reference Documents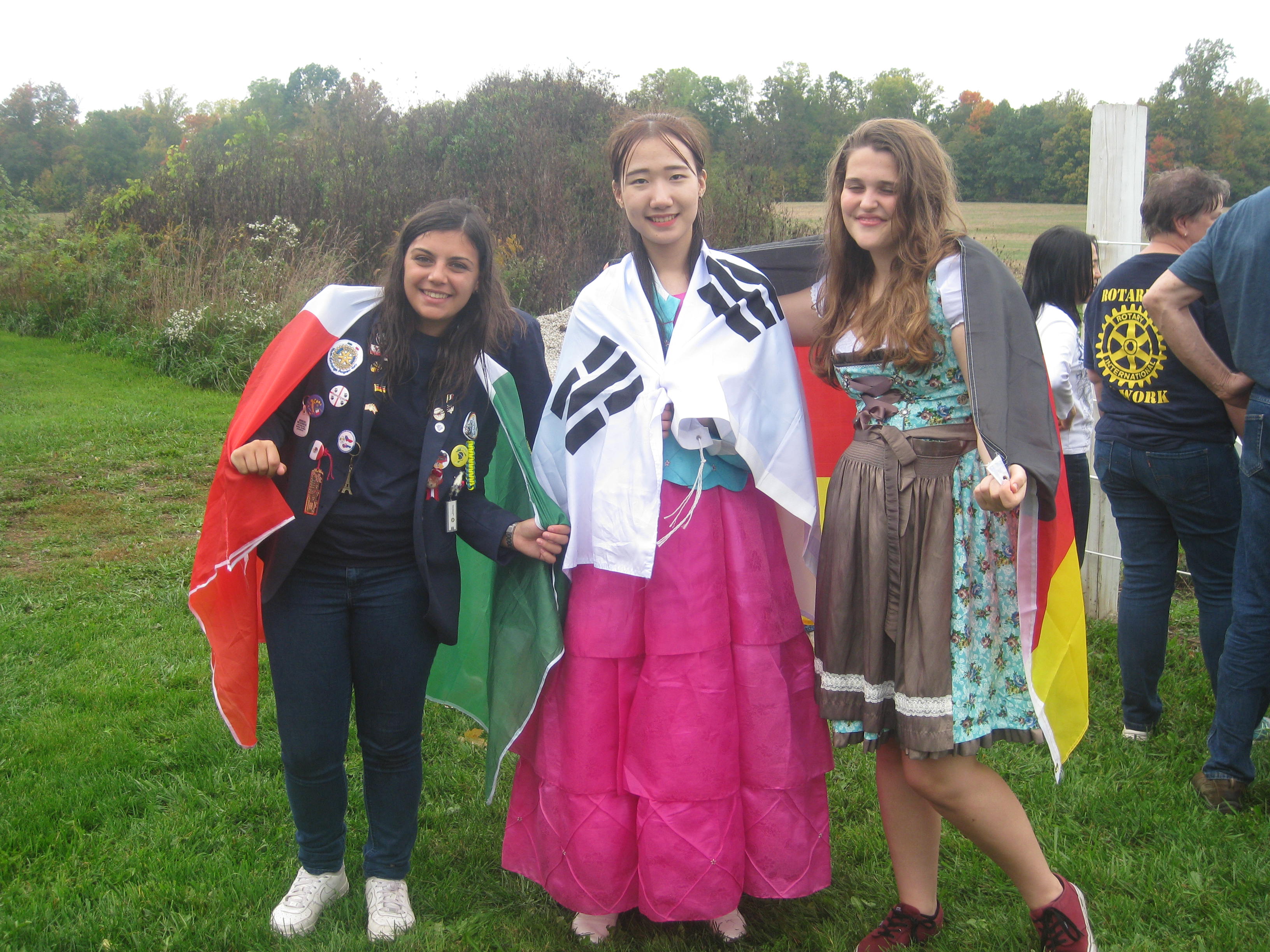 ROTARY YOUTH EXCHANGE
For over 75 years, students and host families have broadened their horizons through Rotary Youth Exchange. More than 80 countries and over 8,000 students each year participate in the program, which is administered at the regional level by Rotary districts and at the local level by Rotary clubs.
District Contact
George Costaras d6600rye@yahoo.com
Rotaract Club
Rotaract is a club for adults ages 18-30 that meets twice a month to exchange ideas, plan activities and projects, and socialize. While Rotary clubs serve as sponsors, Rotaract clubs decide how to organize and run their club and what projects and activities to carry out.
District Contact
Wes Grudzien wes.grudzien@ezonomy.com or Aly Glover allisonglover90@gmail.com
FOUR WAY TEST SPEECH CONTEST
District Contact
Reference Documents
IYFR
The International Yachting Fellowship of Rotarians is the oldest and largest of the Rotary Fellowships. It began in England in 1947 and has grown to 90 fleets, with more than 3200 members in 32 countries.
All Rotarians can join IYFR. The only requirement for joining is an active interest in boating (ownership of a boat is not required). Local fleets are located worldwide; if there is not a local fleet in your area you can join as an Independent Member.
Boating with fellow Rotarians and friends is a delightful way to share ideas, improve your seamanship, provide support for Rotary service activities, make lasting friendships and practice the ideals of Rotary.
District Contact
Commodore Brad Rubini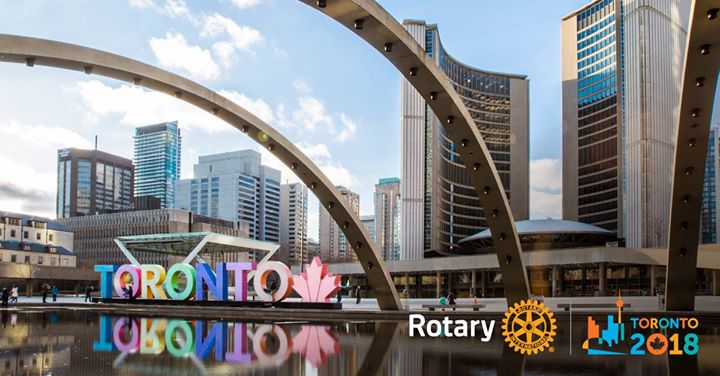 Toronto Convention
Join other District Rotarians on a trip of a lifetime! An International Convention is an experience like no other and this year's convention will be held in Toronto, Canada. Hotels are booking quickly so please make your RSVP today!
M.E.S.A.
M.E.S.A., short for Medical Equipment and Supplies Abroad, was formed in 1981 by the Rotary Clubs of District 6600. Its mission is to facilitate international service projects by bringing equipment, technology and volunteerism to meet humanitarian needs throughout the world. MESA works to build partnerships between local Rotary clubs and areas of the world in need.
District Contact
Bob DiNardo rdinard@utoledo.edu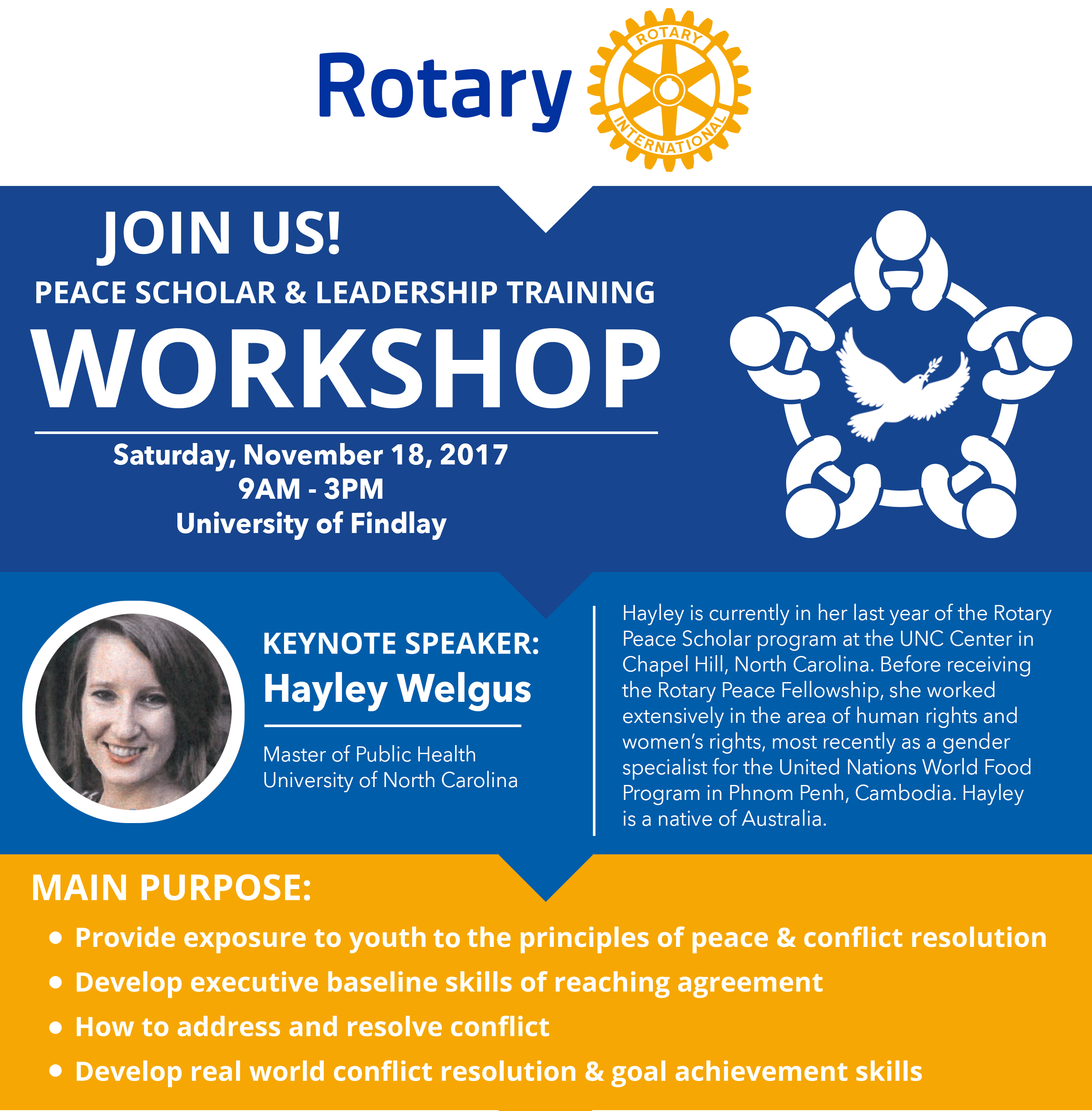 Rotary Peace Scholar and Leadership Workshop
Calling all Rotary Youth! Join us on Saturday, November 18, 2017 for an exciting day with Hayley Welgus, a Rotary Peace Scholar studying at the University of North Caroline. Learn more about building peace and conflict resolution.
District Contact
Allison Glover allisonglover90@gmail.com
S.T.R.I.V.E.
About
STRIVE is a program where Rotary Clubs work with a high school for the purpose of motivating students to improve their school performance during their senior year. The major aspect of the program is that it is Student Driven and only facilitated by Rotarians. This program is FUN, INTERACTIVE, and can involve every Rotarian in your club.
STRIVE stands for, "Students Taking Renewed Interest in the Value of Education."
DISTRICT CONTACT
John Cole jc1040@oberlin.net
REFERENCE DOCUMENTS
WORLD COMMUNITY WORKSHOP
This three-day workshop for high-school students is designed to help participants learn about the history, customs, economic and political issues of a selected region of the world. Students participate in small group discussions and experience hands-on activities. In addition, guest speakers share their stories about life in different countries. The workshop is open to high school sophomores, juniors, and seniors. Students should be in good academic standing and have a genuine interest in learning about different regions of the world.
World Community Workshop Liaison