ROTARY DISTRICT 6600 PRESENTS
A Celebrity
Kitchen Party
TO BENEFIT ROTARY'S END POLIO NOW CAMPAIGN
With Chef Sarah Stegner,
James Beard Award-Winner
from Prairie Grass Cafe in
Northbrook, Illinois
OCTOBER 18 • SUNDAY
3-4 PM EDT VIA ZOOM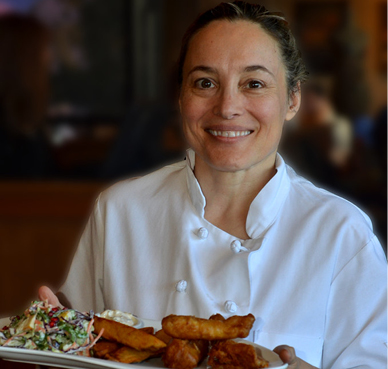 The Polio Committee of District 6600 would like to invite you to a "Virtual" Celebrity Kitchen Party for Polio on Sunday, October 18 at 3:00 EDT.
A James Beard Award-Winner Chef from Chicago, Sarah Stegner, will be your Host! Chef Sarah will prepare a Fall Salmon Meal with an apple slaw from her restaurant, Prairie Grass Café in Northbrook, Illinois!
The Polio Committee encourages you to invite a few of your close friends or family to join you in your kitchen to prepare a fabulous salmon dinner along with Chef Sarah.
The hour-long event will be topped off with a Warm Fall Apple Crepe with cinnamon and sugar. We will also give you recommendations for wine pairings!
The Celebrity Kitchen Party is District 6600's Polio Event to support World Polio Day, October 24th. Can you hear the sizzle of the salmon or the smell of the warm apple crepe?

PREPARE A FALL SALMON MEAL
OR WATCH THE SHOW
Minimum $10 donation to:
End Polio Now
Provides you meal details, ingredients and a personal cooking lesson.
Order ingredients from Walt Churchill's Market (Maumee & Perrysburg) or Oberlin IGA in Lorain County
Questions?
Email Deb Cheney, PDG, District 6600 Foundation Chair