The Rotary Foundation transforms your gifts into projects that change lives both close to home and around the world.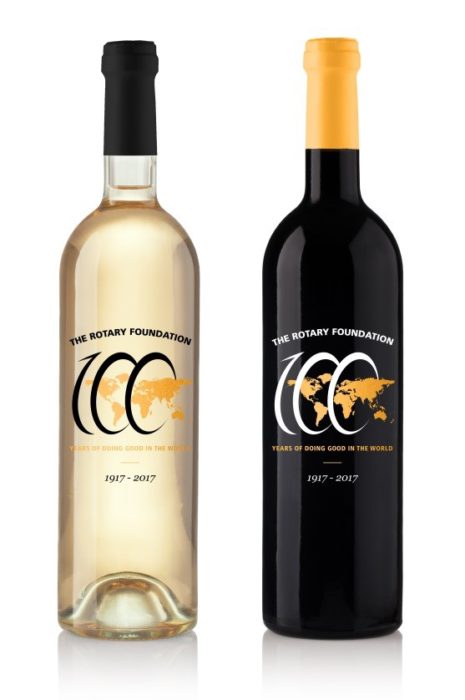 Centennial Celebration Wine
Help us celebrate 100 years of doing good in the world through The Rotary Foundation with an exclusive, Private Label Red or White Table Wine from Firelands Winery in Sandusky, Ohio, commissioned by Ohio District 6600.
With each contribution of $288.00 a minimum donation of $120.00 will be made to The Rotary Foundation for the District named on your order form.
There is a limited amount available so please complete your contribution today. In appreciation of your $288.00 contribution, you will receive a case (12 bottles) of this Private Label Red or White Table Wine.
GIVING
The Rotary Foundation transforms your gifts into projects that change lives both close to home and around the world. As the charitable arm of Rotary, we tap into a global network of Rotarians who invest their time, money, and expertise into our priorities, such as eradicating polio and promoting peace. Foundation grants empower Rotarians to approach challenges such as poverty, illiteracy, and malnutrition with sustainable solutions that leave a lasting impact.
Strong financial oversight, a stellar charity rating, and a unique funding model mean that we make the very most of your contribution. Give and become a part of Rotary's life-changing work!
The District 6600 Foundation Committee is responsible for promoting all aspects of charitable giving to the Rotary Foundation. These include the permanent fund; major donors; the annual fund (EREY) and polio eradication. Presentations on various aspects of the Rotary Foundation are available to your club.
We also have presentations that can be used at your club meetings. Contact the District Rotary Foundation Chair, PDG Joe Ludwig to arrange a presentation for your club or to learn more about available presentations.
End Polio Now
Rotary's number one goal is to eliminate polio in the world. To this end, Rotary District 6600 is highly committed to helping Rotary achieve this goal. Last year our clubs raised over $140,000 for polio and our district contributed an additional $10,000. With the Bill & Melinda Gates Foundation match of $2 to $1 we provided for 750,000 vaccines for children. This year our goal is to vaccinate 1,000,000 million children.
By having our clubs work with their communities we were able to create a greater awareness of what is necessary to achieve this goal. Our district has speakers available to your club or organization should you be interested in learning more about polio. Please contact Harry Hooyenga to arrange for a talk or presentation at hhlh2@aol.com.
To learn more about Rotary's efforts to end polio or to make a donation, click below.
GIVING METER
District 6600 Annual Fund Goal
(Every Rotarian Every Year)
$250,000
Current level of giving as
of OCTOBER 2017
$54,281
District 6600 End Polio Now Goal
$110,000
Current level of giving
as of OCTOBER 2017
$74,764
GRANTS
The Rotary Foundation offers grants that support a wide variety of projects, scholarships, and training that Rotarians are doing around the world. Explore the grant types and find one that's right for your project.
Global grants – Visit myrotary.org and sign in to learn more about the grant process under The Rotary Foundation – Apply for Grants
District Grants – District grants fund small-scale, short-term activities that address needs in your community and communities abroad. These grants are administered by the District with the assistance of the Foundation Chair and the District Grants Subcommittee. Learn more about the process by attending the Grants Management Seminar sponsored by the district each year.
NEW IN 2016: DISTRICT GRANT APPLICATIONS ARE ACCEPTED ALL YEAR LONG!
THE ROTARY FOUNDATION
2016-2017 OFFICERS AND CHAIRS