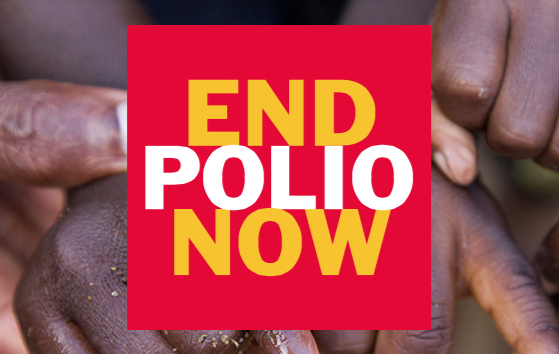 Thanks to a $100,000 pledge from an anonymous donor in District 6600 and a 2-to-1 match from the Bill and Melinda Gates Foundation, we have the chance to contribute nearly $600,000 to the End Polio Now campaign this year.
The details of the $100,000 End Polio Now match are simple:
Individuals who make contributions between $101 and $1,000 will have their donation matched.
Clubs who make a contribution of $1 or higher will have their donation matched.
Donations must be made by May 21, 2017 to the End Polio Now campaign.
Give now at rotary.org/give
PolioPlus began 30 years ago as one Rotarian's idea that has since spread around the globe. Polio eradication is the one common service project among Rotary Clubs everywhere. The World Health Organization celebrates World Polio Day on October 24th with the goal of educating the world about the devastating effects of this disease.
A highly infectious disease, polio causes paralysis and is sometimes fatal. As there is no cure, the best protection is prevention. For as little as 60 cents, a child can be protected against this crippling disease for life. After the successful engagement of over 200 countries and 20 million volunteers, polio could be the first human disease of the 21st century to be eradicated.
World Polio Day happens just once a year, but Rotary's mission to end Polio happens every day. Thank you for your donations, support and commitment to this cause. Last year District 6600 provided enough funding to immunize 164,734 children worldwide with donations over $91,840. Our donations were then matched by the Bill and Melinda Gates Foundation for a total of 494,202 children who will never experience this devastating disease.
MORE RESOURCES
---
For questions on World Polio Day:
Harry Hooyenga, District Polio Chair or Joe Ludwig, District Foundation Chair